Verschmutzung. Körperzustände. Faschismus.
11.10. bis 01.11.2020, DO-SO, 12 bis 20 Uhr
Christoph Schlingensief und die Kunst
Mit Arbeiten von: Joseph Beuys, Günter Brus, VALIE EXPORT, Frankfurter Hauptschule,  Alexander Kluge, Jonathan Meese, Hermann Nitsch, Ileana Pascalau, Dieter Roth, 1UP-Crew.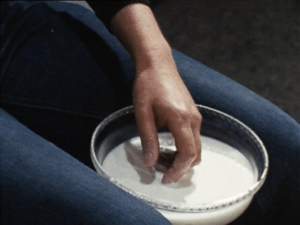 Anlässlich des Festivals zu Ehren von Christoph Schlingensief beschäftigt sich die Ausstellung mit Verschmutzung, Körperzuständen und Faschismus in der Bildenden Kunst. Die Ausstellung macht Synergien zwischen verschiedenen Künstler*innen sichtbar, die Schlingensief beeinflusst haben, bzw. von ihm beeinflusst wurden. Dabei wird vor allem auf Kunstströmungen Bezug genommen, die sich seit Ende des Zweiten Weltkriegs gegen die Sauberkeit in der Kunst wendeten und ihre künstlerischen Materialien um ansonsten im öffentlichen Leben verdrängte und abgesonderte Materialien erweiterten: Kot, Blut, Erbrochenes, Sperma, Müll und Dreck.
Kuratiert von Daniela Duca, Julian Volz und Marlena von Wedel
Die Ausstellung wird mit Unterstützung von kitev realisiert.
Im Supermarkt der Ideen, Eingang Stöckmannstr. 78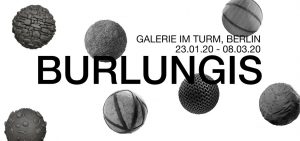 Galerie im Turm
Curated by Linnéa Meiners and Jorinde Splettstößer
Opening 22.01.2020 | 7pm
23.01. – 08.03.2020
Welcome to BURLUNGIS! Hang your cloak and stay a while, weary traveller. The times may be dark and the swamps and bogs hide lurking creatures of the night, but accept our humble comforts in whimsical tales and ecstatic dances around the fire.
BURLUNGIS is a fantastical medieval landscape conjured by COVEN BERLIN to re-imagine a time as dark as ours. But hark! Whoever condemns darkness has forgotten its power. Much of liberal European thought today continues the tradition of the Enlightenment, scoffing at the perceived lack of refinement and unhygienic stink of the Middle Ages. Meanwhile, conservative right-wing movements have co-opted 'the medieval', summoning kings and vikings to create an imaginary time when Europe was white, heterosexual, and Christian.
Aye, let the patriarchs have their snobby printing press and 'perspective'; let the fascists burn in their fire and brimstone. Leave the Mittelalter to the altered middle—to the queers, the Commons, the Live Action Role Players, modern herbalists and all those who'd gladly tread through the muck and mire of this swampy amalgam of history. We hereby decree the myth of 'Medieval Europe' as utterly false, and rewrite it with BURLUNGIS, which bubbles out of the swamp from whence the city we call Berlin, in the 13th century, clumb.
BURLUNGIS begins as a stage open for co-creation between us the artists and you, dear wanderer. Therefore, we heartily invite you to show up at the Galerie im Turm regularly, for we will be a-working, oft and ere.
EVENTS
22.01. | 7pm | Opening
08.02. | 11am – 1pm
EXCAVATING THE EROTIC
Workshop with Dr. edna bonhomme
15.02. | 4pm – 6pm
Recipes from the Archives of Queer Aphrodisia
Workshop with Luiza Prado
22.02. | 5pm – 6.30pm
BY FIRE, BY WATER, BY COMBAT: Deviant Women & Medieval Punishment
Workshop with Ileana Pascalau
07.02. | 14.02. | 21.02. | 28.02. | 2pm – 6pm
Alchemical Creatures and Archaic Garms
Performative Costume-Making with Hang Lington+Laura Lulika
07.03. | 7pm
The Final Joust with COVEN BERLIN
I LOOKED MY BEST TONIGHT
Andreea Cioran & Ileana Pascalau
curated by Daniela Duca
RKI GALLERY, Berlin
8.11.-20.12.2019
The exhibition, entitled "I Looked My Best Tonight" brings together two different artistic practices with a joint focus: the critical interest in examining different ways of transforming, adjusting, beautifying the female body according to ever-changing ideas or standards of beauty.
Pascalau employs a vocabulary coined from different visual traditions: baroque medical wax models, such as the "Anatomical Venus", the religious practice of the jewel-encrusted relics,
but also examples of fashion iconography and fetishism. She moves between past and present to establish connections between historical motifs and contemporary memes defining the visual culture of today.
Cioran, on the other hand, focuses mainly on recent practices which emerged as a result of the rise of digital and social media, exploring phenomena such as the selfie, online avatars and body trends across a number of platforms.
The works in the exhibition encompass a wide variety of media, ranging from photography, sculpture, drawing, Installation and VR. Representations of fragmentary female bodies either serve as construction elements for an exemplary female body architecture, or stand as emaciated remnants of vulnerable, transitory bodies.
"I looked my best tonight" deals also with the influence of social media on identity formation, the relationship between mask and the self, and between pleasure and pathology in connection with certain forms of beauty fetishism and contemporary fashion.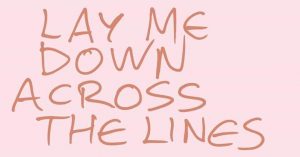 LAY ME DOWN ACROSS THE LINES
curator Valentina Iancu
13 09 – 13 12 2019
Mihaela Cîmpeanu Roberta Curcă Katja Lee Eliad
Yishay Garbasz Sasha Ichim Adelina Ivan
Alexandra Ivanciu Anastasia Jurescu Hortensia Mi Kafchin
Elana Katz Virginia Lupu Ileana Pascalau
Aris Tureac Smaranda Ursuleanu Oana Paula Vainer
The research project lay me down across the lines brings together a series of feminist narratives that propose an orientation towards the intersectional thinking, careful to all of the conditions that determine the feminin reality. The exhibition explores the fragility of difference through personal story, emphasizes fragmentation to highlight the diversity of feminisms existing on the artistic scene. lay me down across the lines is a curatorial exercise that aims at suspending gravity in our cultural system of norms. The resulting mindset opens up the possibility for the female gaze to turn inward and formulate its own narratives.
Kunsthalle Bega
Circumvalațiunii 10 Timișoara
kunsthallebega.ro
Kunsthalle Bega este un proiect al Fundației Calina inițiat de Alina Cristescu, Liviana Dan și Bogdan Rața.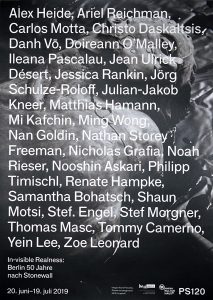 IN-VISIBLE REALNESS: Berlin now 50 years after Stonewall
OPENING JUNE 20TH 2019 6PM-12PM at PS120 Berlin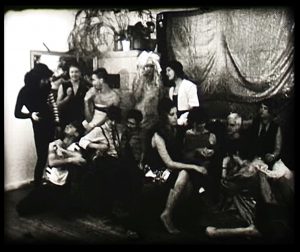 Curated by Ben Livne Weitzman and Justin D Polera
Participating Artists:
Alex Heide, Ariel Reichman, Carlos Motta, Christo Daskaltsis, Danh Vō, Doireann O'Malley, Ileana Pascalau, Jean Ulrick Désert, Jessica Rankin, Jörg Schulze-Roloff, Julian-Jakob Kneer, Matthias Hamann, Ming Wong, Nan Goldin, Nathan Storey Freeman, Nicholas Grafia, Noah Rieser, Nooshin Askari, Phillip Timischl, Renate Hampke, Samantha Bohatsch, Shaun Motsi, Stef Engel, Stef Morgner, Thomas Masc, Tommy Camerno, Yein Lee, Zoe Leonard.
On July 1919, the Institut für Sexualwissenschaft in Berlin opened its doors to the public. Founded by Magnus Hirschfeld, the institute was first of its kind in the world, offering mental and physical aid to those who felt different from the others. Research, education, and political activities took place there alongside the clinic, where also some of the world's first gender-affirming surgeries were performed. Through 14 years of activity, the institute became a centre, a place of work and even home for many LGBTQ peoples from Berlin and beyond.
On 1933, with the rise of the Nazi regime, the institute was lotted and forced to close its doors, but the social, medical and political shockwaves it generated ripple through history, igniting some 50 years later a gathering crowd at the Stonewall Inn to raise against police brutality which, at that moment, symbolised all the injustice and discriminations they have suffered form their entire lives.
"In-visible Realness" seeks to wander along some of the forking paths intersecting these shockwaves. The hyphen in the title marks the tension between the visible, the non-visible, and the becoming-visible.
LUCKY
Opening:  Friday, 06 July 2018, 19h
NGBK / NEUE GESELLSCHAFT FÜR BILDENDE KUNST, BERLIN
Adress: nGbK, Oranienstraße 25, 10999 Berlin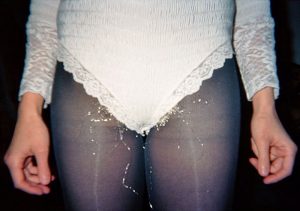 Saturday, 07 July 2018 — Sunday, 02 September 2018
The approach of the project is to react to luck as a cultural myth that normalizes privilege. Masked as luck, white supremacy and patriarchy weave narratives that dull movements of resistance and perpetuate the status quo. While hard work leads to success, success, once realized, is disguised as lucky coincidence. Such aphorisms erase herstory in physical, digital, and spiritual spaces. Through exhibition, performance, and an event series, LUCKY invites queer cultural agents to unveil power structures shrouded in myth and illusion.
Visual Artists:
GeoVanna Gonzalez, Giegold & Weiss, Laura Jones, Angela Kaisers, Ileana Pascalau, Plural Authorship Collective (P_A_C), Tabita Rezaire, Anaïs Senli, Eve Tagny, Anna Uddenberg, Kandis Williams, Miriam Yammad, Inga Zimprich (Feministische Gesundheitsrecherchegruppe) a.o.
Performance Artists:
Travis Alabanza, Zinzi Buchanan & Trev Flash, Ok-Hee Jeong, Laura Jones, Roni Katz, Anarella Martinez, Zwoisy Mears-Clarke, Nasheeka Nedsreal, Vagittarius Rising, Xenia Taniko, Cathy Walsh, Melanie Jame Wolf a.o.
nGbK project group "COVEN":
Frances Breden, Shelly Etkin, Lorena Juan, Judy Landkammer, Louise Trueheart, Kiona Hagen Niehaus, Esther Roman, Harley Aussoleil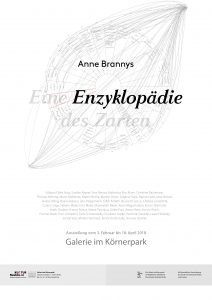 AN ENCYCLOPEDIA OF THE DELICATE
Participating artists: Gökçen Dilek Acay, Sophie Aigner, Ana Alenso, Katharina Kim Alsen, Christine Bachmann, Thomas Behling, Mario BieRende, Martin Bothe, Marion Denis, Dagmar Fella, Harriet Groß, Lena Hensel, Janine Hönig, Eleana Katanu, Jens Kloppmann, Edith Kollath, Bruno Di Lecce, Chelsea Leventhal, Carina Linge, Helene Meier, Ines Meier, Maximilian Meier, Anna Myga Kasten, Enrico Niemann, Aneh Ondare, France Parsus, Ileana Pascalau, Ulrike Paul, Aaron Rahe, Korvin Reich, Yvonne Roeb, Fons Schiedon, Felix Schneeweiß, Charlotte Seidel, Hartmut Stockter, Laurel Terlesky, Sandy Volz, Miriam Yammad, Jenny Yurshansky, Simone Zewnik
The exhibition 'Eine Enzyklopädie des Zarten' (An Encyclopaedia of the Delicate) is based on Anne Brannys's dissertation of the same name. In it the artist sheds light on the concept of 'delicate' or 'tender' from different perspectives, interweaving questions from the humanities, the natural sciences, and art. With eight thematic focuses the exhibition delves into the topic as an immersive encyclopaedia, through a spatial concept developed specially for this presentation. The rhythmic ordering of knowledge throughout the exhibition space is also flexible, enabling cross-links between the objects through a multisensory orientation system.
The artworks – a selection from an extensive archive of positions collected through a call for submissions – represent a diverse spectrum of approaches to the topic and explore the concept's complexity in a sensually perceptible way. The physical experience of an exhibition thus becomes a logical extension to the collection of knowledge in book form.