LUCKY
Opening:  Friday, 06 July 2018, 19h
NGBK / NEUE GESELLSCHAFT FÜR BILDENDE KUNST, BERLIN
Adress: nGbK, Oranienstraße 25, 10999 Berlin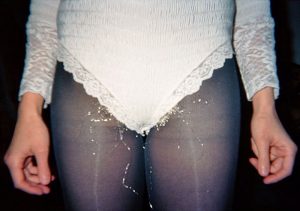 Saturday, 07 July 2018 — Sunday, 02 September 2018
The approach of the project is to react to luck as a cultural myth that normalizes privilege. Masked as luck, white supremacy and patriarchy weave narratives that dull movements of resistance and perpetuate the status quo. While hard work leads to success, success, once realized, is disguised as lucky coincidence. Such aphorisms erase herstory in physical, digital, and spiritual spaces. Through exhibition, performance, and an event series, LUCKY invites queer cultural agents to unveil power structures shrouded in myth and illusion.
Visual Artists:
GeoVanna Gonzalez, Giegold & Weiss, Laura Jones, Angela Kaisers, Ileana Pascalau, Plural Authorship Collective (P_A_C), Tabita Rezaire, Anaïs Senli, Eve Tagny, Anna Uddenberg, Kandis Williams, Miriam Yammad, Inga Zimprich (Feministische Gesundheitsrecherchegruppe) a.o.
Performance Artists:
Travis Alabanza, Zinzi Buchanan & Trev Flash, Ok-Hee Jeong, Laura Jones, Roni Katz, Anarella Martinez, Zwoisy Mears-Clarke, Nasheeka Nedsreal, Vagittarius Rising, Xenia Taniko, Cathy Walsh, Melanie Jame Wolf a.o.
nGbK project group "COVEN":
Frances Breden, Shelly Etkin, Lorena Juan, Judy Landkammer, Louise Trueheart, Kiona Hagen Niehaus, Esther Roman, Harley Aussoleil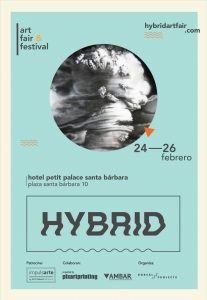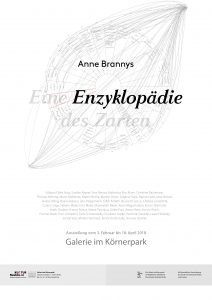 AN ENCYCLOPEDIA OF THE DELICATE
Participating artists: Gökçen Dilek Acay, Sophie Aigner, Ana Alenso, Katharina Kim Alsen, Christine Bachmann, Thomas Behling, Mario BieRende, Martin Bothe, Marion Denis, Dagmar Fella, Harriet Groß, Lena Hensel, Janine Hönig, Eleana Katanu, Jens Kloppmann, Edith Kollath, Bruno Di Lecce, Chelsea Leventhal, Carina Linge, Helene Meier, Ines Meier, Maximilian Meier, Anna Myga Kasten, Enrico Niemann, Aneh Ondare, France Parsus, Ileana Pascalau, Ulrike Paul, Aaron Rahe, Korvin Reich, Yvonne Roeb, Fons Schiedon, Felix Schneeweiß, Charlotte Seidel, Hartmut Stockter, Laurel Terlesky, Sandy Volz, Miriam Yammad, Jenny Yurshansky, Simone Zewnik
The exhibition 'Eine Enzyklopädie des Zarten' (An Encyclopaedia of the Delicate) is based on Anne Brannys's dissertation of the same name. In it the artist sheds light on the concept of 'delicate' or 'tender' from different perspectives, interweaving questions from the humanities, the natural sciences, and art. With eight thematic focuses the exhibition delves into the topic as an immersive encyclopaedia, through a spatial concept developed specially for this presentation. The rhythmic ordering of knowledge throughout the exhibition space is also flexible, enabling cross-links between the objects through a multisensory orientation system.
The artworks – a selection from an extensive archive of positions collected through a call for submissions – represent a diverse spectrum of approaches to the topic and explore the concept's complexity in a sensually perceptible way. The physical experience of an exhibition thus becomes a logical extension to the collection of knowledge in book form.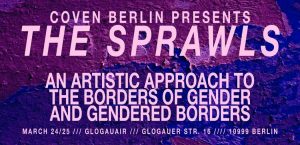 WITH AUDIOVISUAL ARTWORKS BY 
Kiona Hagen Niehaus
Angela Kaisers
Anaïs Senli
Blanca Gomila
María Amparo Gomar Vidal
Ileana Pascalau
Lorena Juan
Esther Nelke
FRIDAY, 24th March 2017 (18:00 – 00:00)
GLOGAUER STR. 16, 10999 Berlin
Looking forward to seeing you there!
Gender can create a sensory experience of tangible and virtual borders, as well as conscious and unconscious ones. These spatial and cultural frontiers are essential points of reference for our own identities. Our limited, and simultaneously real and ephemeral bodies can be stimulated in order to provoke an evolution on, and a transgression of, oppressive social codes.
In the frame of THE SPRAWLS, our work will focus on queer strategies as political tools to rebel against gender constrictions and body policing. With an experimental and playful approach, we will explore and reclaim the concepts of gender, sex, and sexuality and establish new personal and social realities. We will also address the gendered borders of institutionalized knowledge in order to analyze the constructs that can manipulate our understanding of power.
THE SPRAWLS will present the work of artists of various disciplines in the form of talks, intimate performances, live music and audiovisual art with a common focus on the borders of gender and gendered borders. This artistic approach will take place at GlogauAir (Glogauer Str. 16, 10999 Berlin) on the 24th and 25th of March 2017.